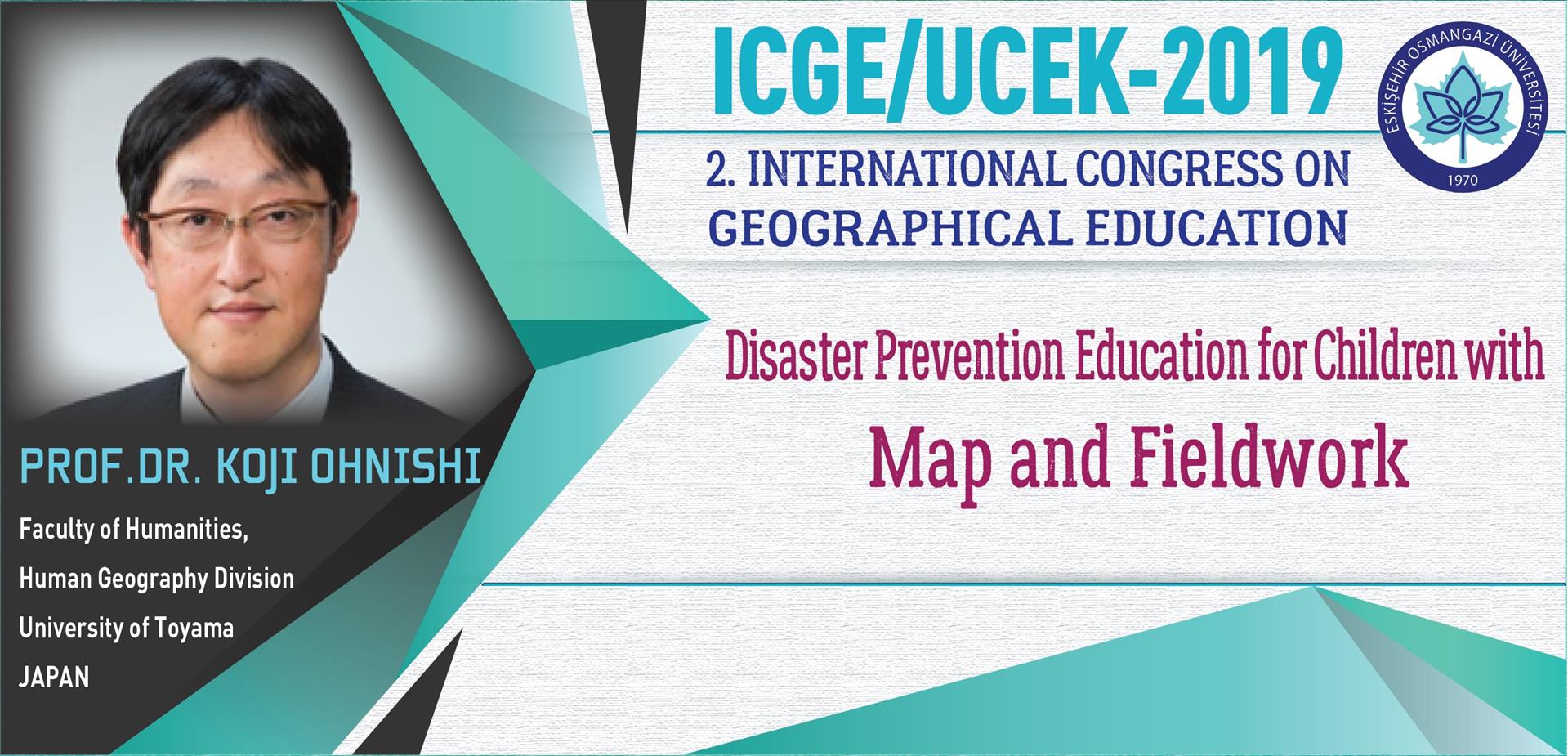 Invited Speaker: Prof. Dr. Koji OHNISHI
Title of the Speech: Disaster Prevention Education for Children with Map and Fieldwork
Abstract of the Speech: Japan is located on the plate boundaries and has rainy season, typhoons. There are several types of natural disasters. These disasters often cause damages on everyday human life. It is important for us to understand the natural disaster in Japan. But we can decrease these damage if we understand the physical geographical characteristics and make reginal planning with past disaster lessons. Geography education with maps is important for children to understand past disaster lessons and disaster prevention. Several maps are used for disaster prevention education class, like hazard maps and topographical maps. Old topographical maps indicate the old landform and old disaster evidences. Through these old maps, children have chances to learn the recent disaster history of their neighbor in social studies and geography class. It is good activities but only map reading activities build passive attitudes. To build up positive attitude to natural disaster understandings, making thematic map is effective for children to understand natural disasters. In Japan, there are several map competition for children. Some competitions focus on natural disaster prevention. Fieldwork is inevitable to make these maps. Japanese new national curriculum in Social studies on Junior high school and Geography on high school indicates the importance of maps and fieldwork. It fosters children's understanding of disaster prevention.
Biography of the Invited Speaker:
Professor, University of Toyama

Faculty of Humanies, Division of Human Geography

Councilor of University of Toyama

President of Committee of Children's map contest in Toyama
Specialty is Human Geography and Children's geographies.

The recent research theme is Children's map and disaster prevention education with ICT.

Undergraduate, Master's degree from Nagoya University, Japan.

Employment: 2019- Professor of University of Toyama, 2002- Associate Professor of University of Toyama, 2000- Assistant Professor of Nagoya University.
Koji Ohnishi 2007: Children's awareness of relationships between their own town and rice field landscapes through the experience of rice planting on the upstream of Tenpaku river', Geographiedidaktische forschungen, 42, 47-50.
Koji Ohnishi, Hiroshi MITSUHASHI 2013: Geography Education Challenges Regarding Disaster Mitigation in Japan . Review of International Geographical Education Online, 3(3), 230 - 240 .
Ida,Y., Yuda,M., Shimura,T. Ike,S., Ohnishi,K. nad Oshima,H. eds. 2015: Geography education in Japan. International Perspectives in Geography AIJ Library 3, Springer